"Be still..."
Slow the pace of life.
Stop the working to be 'good enough'.
Rest in the confidence that "I Am God!"
Trust in the ability "He Is..." for every need.
Interrupt the constant flow of stimuli with silence and focus on the I Am.
Busy-ness directs one's attention onto the doing, the task. In that focus on doing, the still, small Voice can be missed.
"Know that I Am present whenever and wherever you turn your stillness toward Me."
And in that stillness, listen in trust and confidence for God to speak.
The Bible is God's Word. He speaks to us through the words He has preserved for us.
Remove distractions.
Read, daily, to hear what He has to say – to you – to meet your needs.
Whatever your perplexity, whatever your doubt, whatever your need – Trust God's supply chain.
Tell Him your needs, your worries.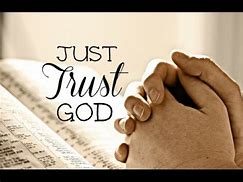 In your quiet place, listen to Him speak from the Bible, and trust Him to provide.
Tell Him of your trust.
Speak to family and friends of your trust and your experiences with God.
The news broadcasts are distressing, even blatantly profane in their disdain for God.
Turn it off!
Fill your mind with Good News!
God is in control!
Trust!
As we are pushed unrelentingly toward the Den of Lions or the Fiery Furnace by angry, demonic people -
God is with you. Neither the lions nor the flames are to be feared. Trust God, who controls both.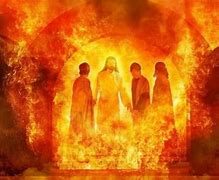 As society seems on the brink of collapse – God is in control!
No plan or action of man or demon can surprise Him or catch Him unprepared.
As finances stretch beyond the point of zero, God's bounty is available – a ready supply.
Ask! Trust! Depend!
During the disruptions of friendships, pour out your heart to the One who 'never leaves you nor forsakes you.'
Medical maladies are no mystery to Him. He already has the vaccine for the human infections and viruses.
"Be still, and know that I Am God!"
"Trust Me!" He pleads.
"Let Me take care of you!"
Though it appears to human eyes that societies are marching, hurrying toward Doomsday -
God's word assures us, "I Am present, working out My plans, working through My servants on the Greatest Rescue Mission ever!
"That where I Am, there you may be also!"
"May be..." It is within your choice to be rescued!
"Choose you this day Whom you will serve!"
"Be still and know that I Am God!"
Trust His promises – Be Still!
Time for stillness must be scheduled and sheltered, else it will be swallowed up by busyness, leaving no communion, no awareness, no peace.
Stillness fosters peace.
Jesus promised it: "My Peace I leave with you!"
Being still, knowing God, understanding that He is in control – results in Peace.
"Not peace as the world gives" – a temporary, fragile, armistice with trouble -
But Peace that sets your heart in tune with Things Eternal.
If your heart, your mind, is troubled – Trust God.
As the old song says, "He's never failed me yet; (He never will)!"
Be Still and Trust God!
Developing Trust
In a previous article we looked at David's trust when facing a giant. If you missed it, click this link and read it. https://www.universitypkwy.org/parkway-blog/put-trust-to-work
The follow-up gives some step-by-step ways to build your trust. Click this link to read it: https://www.universitypkwy.org/parkway-blog/learning-to-trust
Write to me about your experiences with trusting God.
eldon dot roberts at gmail dot com