Welcome to the University Parkway SDA Church in Pensacola, Florida. We are a Christian community and would love to have you visit with us at the weekly Sabbath Services.
(With sad hearts we share the news that Eustaquio Solis has passed to rest. He now awaits that great moment when Jesus will call him from his resting place and reunite him with his family. 
Eustaquio is survived by his wife Patsy, daughter Sylvia, son Dan, and grandchildren. 
 Let's join in prayer for the family as they grieve this loss. 
A Memorial Service will be announced later.)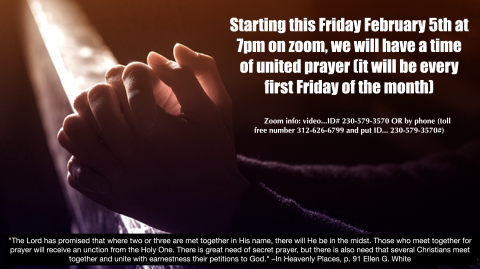 Sabbath Services
The Live-audience service – the preaching service – will begin at 2:00 p.m. each Sabbath.
This service will be outdoors, under the drive-thru covering at the front of the church.
Click here for the full announcement
or Directly from Livestream at
https://livestream.com/universityparkwaysdachurch
The text of the  Adult Sabbath School Lessons is placed on Face Book daily, early in the morning.
Click on Groups, then Sabbath School Lesson Study. 
Offerings and Tithes may be submitted through our website: https://adventistgiving.org/#/org/ANTGIV/envelope/start
Stay safe. God is still in control!
Join us for Bible study, worship, and prayer.
Make this Your Home Church.
Join Us This Sabbath.

Live Stream 
Sabbath School Lesson: 10:00 a.m.
Worship Service: 10:50 a.m.
Worship Service Livestream link: Click Here
Visit our About Us page to learn more.
Pastor Robert Meneses
University Parkway SDA Church