You have accepted God's offer to Cover You With Grace – Now What?
Does Grace cover all my sins? From now on?
Yes, but -
I learned the alphabet when I was quite young. All of the words in books are made up of those letters.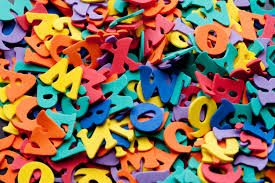 It would be foolish of me to pick up a book, turn the pages, and begin reciting the alphabet over and over. Sure, it covers all of what's in the book, but it lacks a lot in the experience.
Think of the meme showing the pile of the alphabet letters jumbled together with the caption, "I'll let God put them together so they say the right things."
Should we treat Grace that way?
Grace is powerful! It's a wonderful Suit of Armor to wear. But is it the only armor we need?
The Bible advises us to "put on the whole armor of God (Ephesians 6).
Why? So that we may be able to stand up to the devil's onslaught.
Doesn't Grace take care of that standing up?
Grace is not the whole alphabet of the Christian Life.
We can't effectively wave a Grace Card at God over and over. There's more to being a Christian than that.
Covered by Water needs to follow the choice to be Covered by Grace.
Noah passed through the flood (Genesis 6, 7) as a type of baptism. The water cleansed the earth of the evil that had festered for centuries.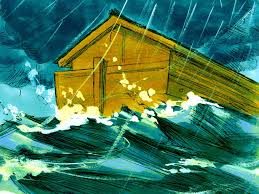 Noah came out of that baptism to a new beginning. The past was washed away. His Ark Experience was and is a testimony to the world and to the devil - "I am a new person. The past is left there. I declare my loyalty to God.
Israel was preparing to leave their lives of slavery. On that last night in Egypt they took the blood of a lamb and splashed it on the sides – both of them – and the lintel of the door to their home.
What happened that night was Grace.
A couple of days later they were led through the water of the Red Sea. All one million of them. The largest baptism by water ever!  (1 Corinthians 10)
Behind the Israelites was slavery and false gods.
The water covered their past slave drivers and set them safely marching into their future – following God's lead – pillar of cloud and of fire, with Moses as God's spokesperson.
About 40 years later the new generation of God's People crossed the Jordan River at flood stage. Just before they occupied their Sanctuary Homeland, they needed the baptism experience.
Old desert lives, complaining, rebelling, disobeying – all behind them on the other side of the baptismal waters.
Ahead of them was dependence on God, loyalty to God, and creation of a life to reflect God's ideals, God's way of living.
Have you been covered by the baptismal water?
Jesus was baptized.
Baptism is a public testimony of surrender – the Pastor, representing God, plunges you backward under the water. The surrender of control is important. We like to be 'in control.' But, God needs us to turn control over to Him.
The symbolism is:  being laid back to die – the old self laid in the watery grave – covered in water.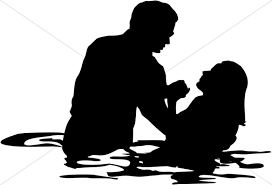 Then the power of the pastor raises you up, water running off you, just as the past is washed away. Whatever claims satan had on me are dissolved, washed away, left in the baptismal water.
Symbols and actions are important as landmarks to fortify ourselves in the battles to come.
The church family celebrates your re-birth.
Satan is put on notice: "I am a new creature in Christ! You no longer hold me as a slave to your ways! I am now, publicly, Christ's!"
With your baptism on earth you are joined into the Heavenly Membership Roll. A Son or Daughter of God!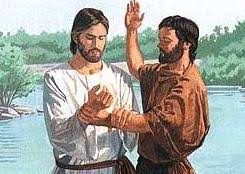 As is true of physical families, staying connected is important.
Fellowship!
Attend the gatherings of your church family. Mingle. Get acquainted. Make friends.
Jesus said, "I Am the Water..."
Through baptism we are buried in Jesus and raised again to New Life. New Hope. New Joy.
It is now our joy to live in Him. A new member of God's Royal Family with a future that is solid gold, set with diamonds and pearls.
Are you covered by the Water?
If not, start planning how to take this important step.
Baptism by immersion into a church that Loves God enough to keep all of His Commandments.
Covered by Grace – the past forgiven!
Covered by Water – a new life to live now!
Look for a group of fellow believers and study more with them.
The Seventh-Day Adventist church in your community is highly recommended as Bible-Believing Christians.